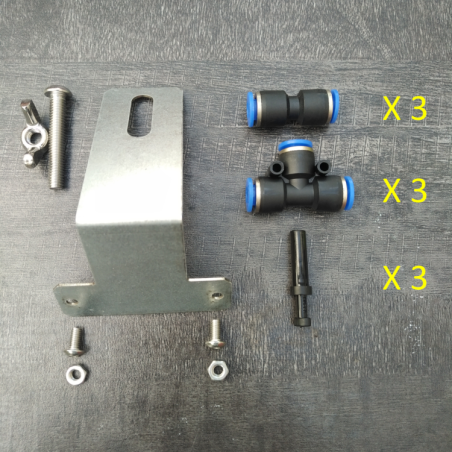  
Aqua-Magic System accessories for Vertika
With this accessory set, installing and using this automatic solar watering system is easy. Everything has been specially designed for use with Vertika:


simplified, reliable and aesthetic installation: specific support,
irrigation and easy maintenance: quick couplings,
durability: use of galvanized steel and stainless steel screws.
Privacy
The use of your data is strictly reserved for order processing.
Shipping
France, Germany, Belgium and Luxembourg. Contact us for others European countries.
The Aqua-Magic System accessory set for Vertika includes:


a galvanized steel support and its stainless steel bracket designed specifically for Vertika,
3 quick straight junctions,
3 quick T-junctions,
3 waterstop.

Thanks to these quick junctions, it is very easy to store the pump in case of winter storage or cleaning. It is also possible to irrigate the compost while continuing to supply it with bio-waste.